Finance Xerox Docucolor DC 240 Color Professional Production Multifunction Copier In Toronto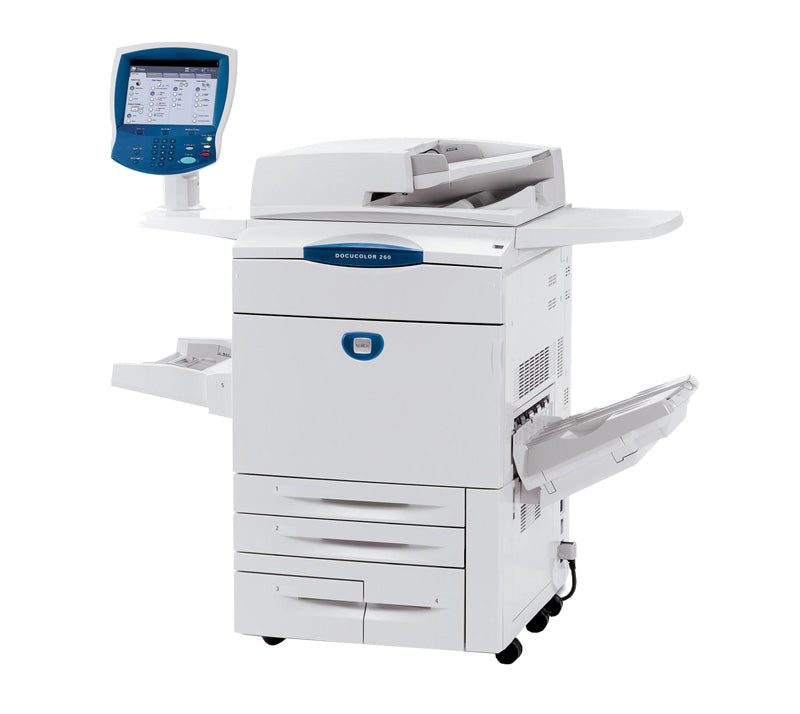 Xerox Docucolor DC 240 Multifunction Production Copier
For fast, affordable color and brilliant image quality, look no further than the Xerox DocuColor 240 / 250 printer-copier. It's the choice for color-intensive environments. Whether you're a graphic artist or you run the print department, this scalable solution gives you the tools you need for the color you expect.
Creative Professionals
Brilliant, accurate color, outstanding color management tools and proofing options make it ideal for those in graphic communications.
Pay for Print
Ease of use, low acquisition and running costs, and a small footprint suit a pay-for-print environment perfectly.
Centralized Reproduction Departments
Quick completion times for copies, prints and reprints, plus a selection of print workflow options make this the right choice for fastpaced centralized reproduction departments.
Commercial Printers
Fast, high-quality outputs and a seamless fit with existing print workflows make it perfect for commercial printers.
Demanding Office Environments
Quick turnaround times and great quality for reports, presentations, letterhead and newsletters make it an ideal solution for busy workgroups.
With its high performance features, this device enables you to take on more jobs, more often.
• Select the DocuColor 240 printer-copier for swift job completion at up to 40 ppm color and up to 55 ppm black-and-white. For even greater performance, select the DocuColor 250 printer-copier for up to an amazing 50 ppm color and 65 ppm black-and-white. The choice is yours.
• Your first page comes out in as fast as 7.8 seconds in color (4.3 seconds in black-and-white) – great for single-page jobs.
• Out of toner? Don't worry. You can load a fresh toner cartridge even while you're printing – without interrupting the job in progress.
• Choose from a selection of powerful controllers for maximum productivity.
• Enjoy sharp images with outstanding fine lines and shadow detail, thanks to Emulsion Aggregation (EA) High Gloss toner.