Looking For Best SHARP MX-M905 90 PPM High Speed Digital Laser Monochrome Photocopier Printer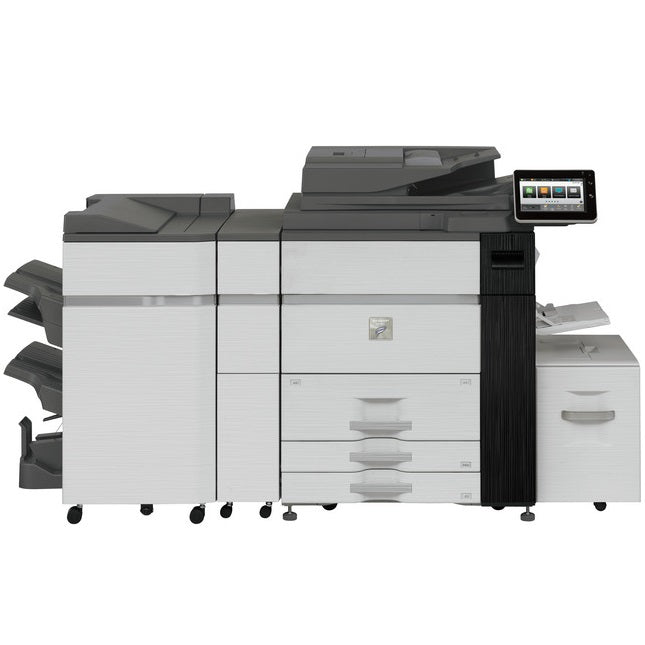 Call 905-326-2886 We are ready to help! 
Lowest Copier Prices !!!
The MX-M905 is high performance, high productivity black and white printing system perfect for bringing high volume printing in-house.
High peformance MFP designed for high volume office printing
Pages per minute: 90 B/W
Paper capacity: Std 3100 Max 8500
Enhanced user interface with easy to use 10.1" colour LCD panel with finger swipe touch control
120 opm 1-sided and 240 opm 2-sided scan speed in colour and B/W with standard 250-sheet DSPF
Extensive finishing options include 100-sheet stapling, saddle stitch, multi-folding, curl correction, trimming and insertion capabilities
Four levels of network and data protection
Advanced expandability options
Overview
The Sharp MXM905 HIGH-SPEED MONOCHROME DOCUMENT SYSTEMS offer advanced technology and features that will streamline your document workflow like never before. From walk-up office environments and corporate workgroups, to Central Reprographics Departments (CRDs) and copy rooms, the MXM905 provides world-class efficiency with intuitive operation.
The MXM905 high-powered document systems has been designed to handle the rigors of highvolume environments with the user friendliness of a workgroup MFP. This workhorse is a perfect fit where productivity and reliability are critical and ease-of-use is essential.
EASE-OF-USE – Sharp's customizable touchscreen display offers a user-friendly graphical interface with a clean design, simplified Easy Modes and integrated operation guides.
INTEGRATION – Equipped with the latest version of Sharp OSA technology for easy integration with network applications and cloud services, the MXM905 model can unlock advanced capabilities to help you better manage your workflow.
FLEXIBILITY – Offers a wide range of paper handling and finishing options to accommodate virtually any environment, including small CRDs and copy rooms.
The MXM905 HIGH-SPEED MONOCHROME DOCUMENT SYSTEMS offer customers powerful multitasking features enabling them to quickly execute the ever-changing workflow tasks of today's busy office environments. And with Sharp's industry-leading security features, you can rest assured that your intellectual property is protected from the first day of operation to the time of trade-in. That's the SHARP DIFFERENCE.
Intuitive design with powerful features
Modular design provides a wide variety of configurations from basic high-speed copying and printing to professional folding and booklet making.
Scan Preview feature offers on-the-fly page editing with easy fingertip navigation.
250-sheet Duplex Single Pass Feeder (DSPF) scans documents at up-to 240 images per minute.
Triple air-feed paper input option offers high-reliability and is virtually maintenance-free.
Large 10.1" (diagonally measured) customizable touchscreen display with a clean design enables easy access to features and functions when setting up jobs.
Offers 8,500-sheet maximum paper capacity and media support up-to 110 lb. cover stock (300 gsm) with optional paper feed units.
Standard high-performance print controller with included PCL 6 and true Adobe PostScript 3 printing languages.
True 1200 x 1200 dpi printing provides beautiful images and enhanced clarity for fine details such as small text and graphics.
Easily access popular cloud applications, including: Microsoft OneDrive for Business, SharePoint Online and Google Drive with Sharp's Cloud Connect feature.
With Email Connect, scan to email is seamlessly integrated with Microsoft Exchange and Gmail.
Standard Job Management features make it easy to print on-demand as well as view jobs, retain jobs, combine jobs, select print settings and more.
Supports the Sharp OSA development platform, enabling businesses to easily integrate with network applications and cloud services.
Convenient End-of-Lease feature can erase all files on the hard disk drive, all user data, job status data and address book data at trade-in time.
Simple and Intuitive Operation
From the most basic of copy functions, to the most complex scan jobs, the MXM905 will perform them with ease and efficiency. Use one of the Easy Modes for fast, simple operation, with basic functions displayed in large, clearly-labeled tiles and keys. And for more advanced features, just touch the "Details" button – it's that easy.
A "Well-connected" Device
Connecting a multifunction printer (MFP) to your wireless network and accessing it from mobile devices has never been so easy with the MXM905 standard wireless networking features. Print from or scan to popular cloud services such as Microsoft OneDrive for Business, SharePoint Online, and Google Drive with Sharp's Cloud Connect feature. Single Sign-on (SSO) support for accessing these services makes scan-to-folder and scan-to-email operations simpler than ever. Even printing from your desktop is made easier with Sharp's Serverless Print Release function. Easily send a job to one device, and print it on another when and where it's most convenient for you.
Intuitive Job Management
Sharp's Document Filing System provides a 1 TB hard disk drive to store frequently used files. With the thumbnail preview mode, stored jobs can be located and retrieved quickly. Easily reprint retained jobs, combine jobs, repaginate jobs, edit pages and more.
Robust Paper Handling For Busy High-Volume Environments
Sharp understands the importance of productivity – that's why the new MXM905 high-speed monochrome document systems offer up-to 8,500-sheet paper capacity and support media types up-to 110 lb. cover (300 gsm) with paper input options. An available 5,000-sheet large capacity paper input option with air-feed technology, helps maximize reliability and minimize downtime. A feature typically found on production devices and printing presses, the triple air-feed system directs air flow with precision accuracy to ensure proper paper handling. And to handle those large originals, a standard 250-sheet dual head document feeder can scan up-to 240 images per minute.
Simplify Managing Different File Types with Intelligent Image Processing
Easily and quickly scan and convert documents to popular file formats including: Microsoft Word, PowerPoint and Excel, as well as a variety of PDF formats such as Searchable PDF, Encrypted PDF, Compact PDF and others. You can also direct print these same file types from thumb drives, cloud applications and mobile devices. This function is enabled via DirectOffice technology. With this much flexibility, you can speed through your workflow tasks faster than ever!
Distribute, Access and Print Your Documents with Ease
Sharp makes it easy to send documents to the destinations you need, and goes beyond traditional network scanning with standard Email Connect and Cloud Connect features. With Email Connect, scan to email is seamlessly integrated with Microsoft Exchange and Gmail. With Cloud Connect, you can easily scan to and print from Microsoft OneDrive for Business, SharePoint Online and Google Drive without additional middleware.
Scan and Print Files Easily from Mobile Devices
The MXM905 monochrome document systems also make it easy to scan and print files from tablets and smartphones using Sharpdesk Mobile, a free downloadable app available for most common mobile devices. The MXM905 model also supports popular mobile technologies such as AirPrint, Android printing framework and Google Cloud Print. You can print locally from your device or download files from supported cloud applications. Since the MXM905 can connect to mobile devices through a point-to-point wireless connection, there is no interference with your corporate network.
Flexible Printing Solutions Help Speed Up Your Office Productivity
The MXM905 comes standard with true Adobe PostScript 3 and PCL 6 printing systems to help you speed through all of your output needs with accuracy. To help streamline your jobs, this powerful performer includes Serverless Print Release technology, enabling you to securely print a job and release it from up-to six compatible models on your network. And with Google Cloud Print web printing service, you can print from Chromebook notebook computers, PCs and more from virtually anywhere.
You can get the best Color/Monochrome Multifunction printers with the latest design and features from Toronto Copiers. We deal with all your needs for office copiers/printers and toner and ink cartridges in Toronto area.