Looking To Buy SHARP MX-B427PW Monochrome Desktop Printer With 42 Pages Per Minute In Toronto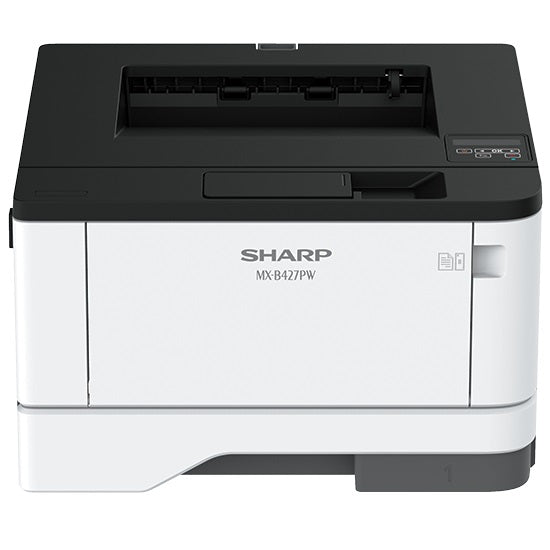 Call 905-326-2886 We are ready to help! 
Lowest Copier Prices !!!
The MX-B427PW is an ultra-compact Workgroup essential A4 black & white Printer that offers productivity features that suits the needs of small office or home office environment.
Print
Pages per minute: 40 B/W
Paper capacity: Std 350 Max 900 sheets
Wireless connectivity as standard enabling easy access from mobile devices
Printing from mobile devices made easy with AirPrint
Multi-layered security features keep information safe
Overview
Space Saving Solution for the Mobile Worker
The MXB427PW Desktop Monochrome Printer delivers crisp, high-quality output with exceptional ease-of-use. This ultra-compact printer provides customers with a simplified user experience and the confidence of knowing their jobs will come out right the first time, every time. The MX-B427PW is equipped with economical features that reduce energy consumption both while in use and during sleep mode. Offering versatile paper handling and wireless capability right out of the box, the MXB427PW is the perfect solution for the workplace or home office.
Key Features
EASE OF USE – Quick set up with one-step installation process and 2-line LCD display with simple operation keys to control print, power and network settings.
PRODUCTIVITY – Produces high-quality, professional output at up-to 42 pages per minute, plus standard wireless connectivity enables easy access from mobile devices such as notebook computers, tablets and smartphones.
VERSATILITY – Compact design with flexible paper handling that allows printing on a wide variety of paper through the main paper drawer and bypass tray.
 Offering a maximum paper capacity of 900 sheets of A4 and the ability to print on card stock and envelopes, the MX-B427PW takes care of all of your printing requirements. Mobile printing is fully supported by AirPrint and the standard wireless LAN enables your device to be positioned anywhere within the office.
The industry leading multi-layered security features keep information safe—in the document, on the device, and over the network and a range of embedded features offer additional protection against attacks such as the Print Hold feature that waits for your command at the control panel before printing, and Confidential Print that requires a PIN before printing.
You can get the best Color/Monochrome Multifunction printers with the latest design and features from Toronto Copiers. We deal with all your needs for office copiers/printers and toner and ink cartridges in Toronto area.