New SHARP MX-7081 MX7081 High Speed Color Multifunction Office Printer Copier With 70 Pages Per Minute For Sale By Toronto Copier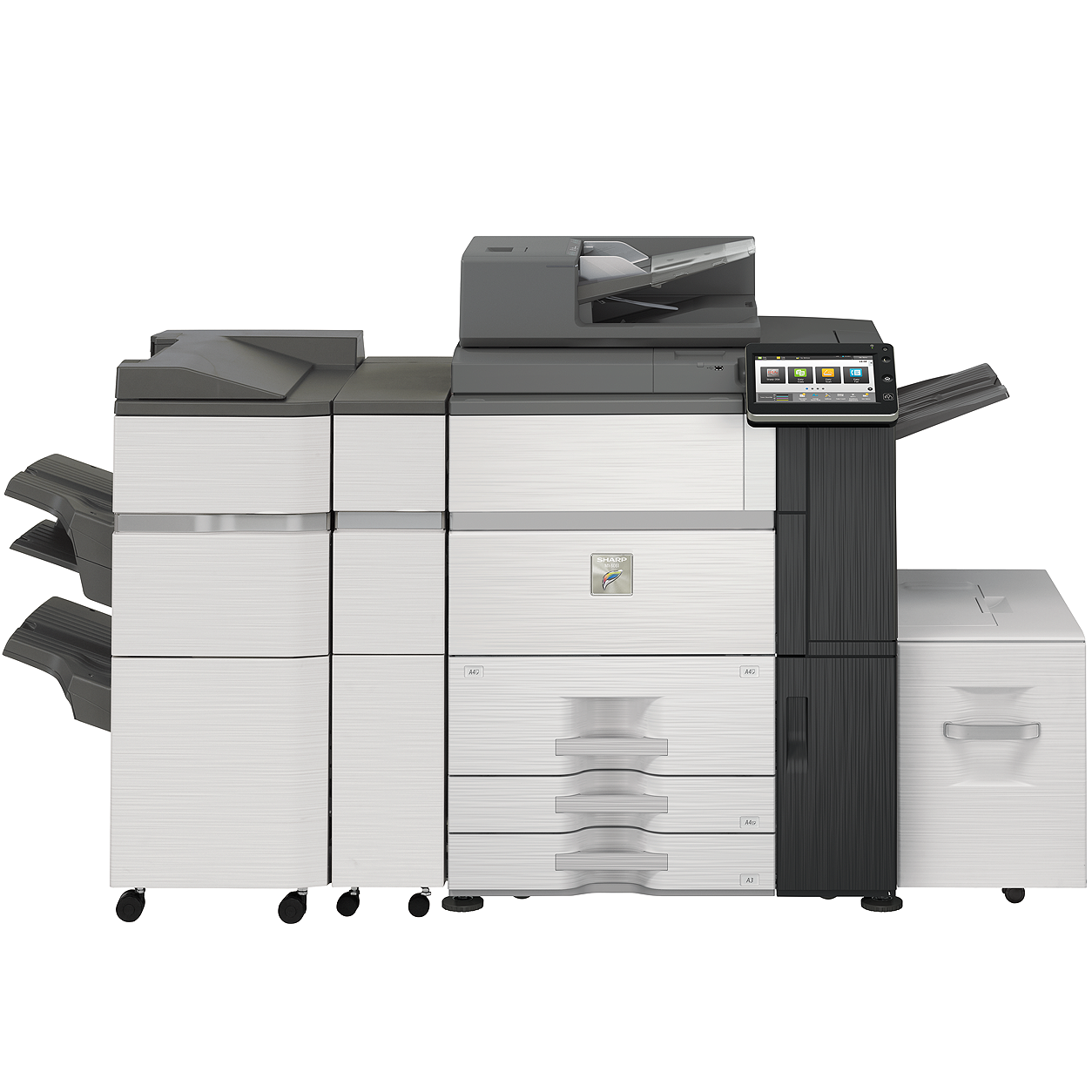 Call 905-326-2886 We are ready to help! 
Lowest Copier Prices !!!
The MX-7081 is a high performance A3 colour MFP designed for the high end office walk-up environment that requires professional finishing, sophisticated workflow and high productivity.
Print, Copy, Scan, Fax, File
Pages per minute: 70/75 (colour/black & white)
Paper capacity: Std 3100 Max 8500 sheets
High speed, high volume productivity with a wide range of professional finishing options
Easy User Interface mode with tiltable 10.1" colour LCD touchscreen
300-sheet DSPF with double-feed detection
Advanced system/data protection and access control,including firmware self recovery and whitelisting
Overview
The Sharp MX7081 COLOUR DOCUMENT SYSTEMS are designed using the latest technology available to deliver the performance, features and reliability needed in today's busy workplace. Built for high-volume environments, central reprographics departments and copy rooms, these new document systems are complemented with robust paper handling and productive output capabilities, once found only in commercial print facilities. These new models also offer leading-edge security features to help businesses protect their data and personal information.
Sharp's next generation COLOUR CONSISTENCY SYSTEM helps ensure brilliant colour output, page-afterpage and job-after-job, for repeatable, high-quality results. Businesses can rest assured that producing professional-looking colour documents in-house can be easier and more economical than ever before.
EASE-OF-USE – Award-winning touchscreen display with intuitive menu navigation combined with alternative touchless operation capabilities for basic copying, scanning and print release.
PRODUCTIVE FEATURES – Full multifunction capability out-of-box, including copying, network printing and colour network scanning. Adobe Embedded Print Engine technology natively processes PDF files from a wide variety of sources, delivers peak performance and provides superior rendering accuracy.
ADVANCED COLOUR WORKFLOW – The latest MXPE15 Fiery Print Server is available for corporate offices, CRDs and in-plant printing facilities that require precision colour control and job management.
The MX7081 HIGH SPEED COLOUR DOCUMENT SYSTEMS are also easy-to-use and offer enhanced productivity, all to provide customers with a seamless, intuitive experience and the confidence in knowing their jobs will come out right the first time, every time.
STRONG PRODUCTIVITY
A powerful, smart MFP that transforms office productivity and helps meet the demands of high-volume office customers.
300-sheet Duplex Single Pass Feeder (DSPF) scans documents at up-to 240 images per minute.
Scan Preview feature offers on-the-fly page editing with easy fingertip navigation.
Triple air-feed paper handling option offers high reliability and is virtually maintenance-free.
Offers 8,500-sheet maximum paper capacity and media support up-to 110 lb. cover stock (300 gsm).
High-performance print controller with included PCL 6 and Adobe PostScript 3.
True 1,200 x 1,200 dpi printing provides beautiful images and enhanced clarity for fine details such as small text and graphics.
The Sharp Colour Consistency System with next generation image process control delivers high quality colour output and maintains optimum colour balance and toner density page-after-page.
Easily access popular cloud applications, including Microsoft OneDrive for Business, SharePoint Online, Box and Google Drive, with the Sharp Cloud Connect feature.
Standard Job Management features make it easy to print on-demand as well as view jobs, retain jobs, combine jobs, select print settings and more.
Supports the Sharp OSA development platform, enabling businesses to easily integrate with network applications and cloud services.
Compact PDF feature dramatically reduces the file size of scanned colour documents, resulting in decreased network traffic and more efficient use of disk and cloud storage.
Convenient End-of-Lease feature can erase all files on the hard disk drive, all user data, job status data and address book data at trade-in time.
Simple and Intuitive Operation
The new MX7081 high-speed colour document systems feature the latest 10.1" (diagonally measured) high-resolution touchscreen with a signature retractable keyboard for unmatched ease-of-use.
A "Well-connected" Device
Connecting a multifunction printer (MFP) to your wireless network and accessing it from mobile devices has never been so easy with the MX7081 standard wireless networking features. Print from or scan to popular cloud services such as Microsoft OneDrive for Business, SharePoint Online, and Google Drive with the Sharp Cloud Connect feature. Single Sign-on (SSO) support for accessing these services makes scan-to-folder and scan-to-email operations simpler than ever. Even printing from your desktop is made easier with Sharp's Serverless Print Release function. Easily send a job to one device, and print it on another when and where it's most convenient for you.
Robust Paper Handling for Busy High-Volume Environments
Sharp understands the importance of productivity, that's why the new MX7081 high-speed colour document systems offer up-to 8,500-sheet paper capacity and support media weights up-to 110 lb. cover (300 gsm). The Sharp exclusive paper feed option uses air-feed technology, which maximizes reliability and minimizes downtime. The triple air-feed system directs air flow with precision accuracy to ensure proper paper handling. Also, to help drive productivity, a standard 300-sheet dual head document feeder can scan up-to 240 images per minute.
Improve Document Production with Best-in-class Processing and Timesaving Workflow
The Fiery MXPE15 print server can produce professional, finished documents in less time with easy-to-use job management tools. Operators can use Fiery Command WorkStation, the powerful, intuitive job management interface, to set up and print complex jobs in-house, regardless of their experience.
• Print faster, smarter and seamlessly – turn in-house printing into a professional operation
• Achieve unparalleled image and colour quality – ensure consistent reproduction of your brand
• Add value and impact – customize your output with variable data printing capabilities.
Add the optional Fiery Automation Package to gain a touchless job submission workflow and professional preflight tools.
Distribute, Access and Print Your Documents with Ease
Sharp makes it easy to go beyond traditional network scanning with standard Email Connect and Cloud Connect features. With Email Connect, scan to email is seamlessly integrated with Microsoft Exchange/Office 365 and Gmail user accounts, making it easy to identify the sender of scanned files. With Cloud Connect, users can easily scan to and print from Microsoft OneDrive for Business, SharePoint Online, Google Drive, Box and Dropbox. And with the Sharp Application Portal, administrators can easily add new apps and update existing apps right from the MFP touchscreen panel.
Scan and Print Files Easily from Mobile Devices
The MX7081 high-speed colour document systems also make it easy to scan and print files from tablets and smartphones using Sharpdesk Mobile, a free downloadable app available for most mobile devices. These new models also support popular mobile technologies such as Apple AirPrint. With standard wireless networking, users can also print directly to the MFP from mobile devices without interfering with the corporate network!
Simplify Managing Different File Types with Intelligent Image Processing
With standard OCR capabilities, users can easily scan and convert documents to popular file formats including Microsoft Word, PowerPoint and Excel, as well as Searchable PDF, Encrypted PDF and others. You can even directly print these same file types from thumb drives, cloud applications and mobile devices. This function is enabled via Qualcomm DirectOffice technology. These new models also support Adobe Embedded Print Engine technology, which direct prints PDF files from a variety of sources with greater performance and rendering accuracy.
Flexible Printing Solutions Help Maximize Productivity
Standard PCL 6 and Adobe PostScript 3 printing systems help you speed through all of your output needs. The Sharp Serverless Print Release feature enables users to securely print a job and release it from up-to six supported models on your network.
You can get the best Color/Monochrome Multifunction printers with the latest design and features from Toronto Copiers. We deal with all your needs for office copiers/printers and toner and ink cartridges in Toronto area.