Ricoh's Pro VC20000 inkjet delivers ease of use for multiple print applications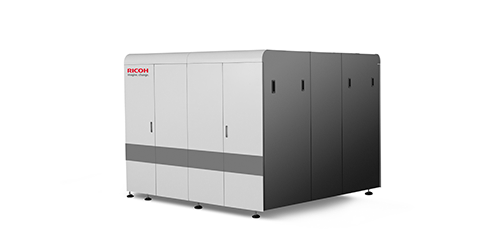 Ricoh's Pro VC20000 inkjet delivers ease of use for multiple print applications
Print service providers can profitably produce a wide range of applications with the new Ricoh Pro VC20000 colour continuous feed inkjet press. These applications range from transactional print such as bills, statements and policy documents to books and direct mail.
ALSO SEE: LEASE TO OWN OR BUY LASER MULTIFUNCTION PRINTER/SCANNER/COPIER
The compact, versatile and simple to use system is now available across EMEA. It brings competitive colour production to existing users of continuous feed printers, as well as sheet fed users who are looking to consolidate the output of multiple devices to a single machine. With a footprint of just 4.3 square metres, it can fit in to almost any production environment.
The Pro VC20000 inkjet printer is compatible with a wide variety of papers. Its versatility can be further enhanced with inline finishing solutions where the ability to change speed to match the capability of each device helps to maximise production and minimise paper waste.
The Pro VC20000 joins the mono 75 metres per minute, 600 x 600 dpi Ricoh Pro™ V20000 and the mono 150mpm, 600 x 600 dpi Ricoh Pro V20100.
MORE INFO ON LEASE TO OWN
Eef de Ridder, Vice President, Commercial and Industrial Printing Group says: "The Pro VC20000 further enhances our fast-growing portfolio of colour continuous feed inkjet printers that includes the Ricoh Pro VC60000, and of course, the groundbreaking Ricoh Pro VC70000. As the system is so easy to run clients can quickly enjoy improved operational efficiency, increased running speeds and significantly lower running costs enabling them to competitively elevate their service delivery and explore new markets."
The Ricoh Pro VC20000 is supported by Ricoh's fast-growing software portfolio. It includes the new cloud-based Ricoh Supervisor, a remotely accessible Internet of Things solution that supports informed decision making by collecting, securely storing and analysing operational data; and Ricoh Communications Manager that delivers and deploys Customer Communications Management services with end to end visibility from source system to the final delivery for both print and digital communications.
There is also the newly updated Ricoh ProcessDirector that controls and manages print production processes, TotalFlow BatchBuilder for intelligent and optimised production processes and FusionPro for the design and production of personalised communications.
Clients will also have access to Ricoh's knowledgeable and responsive service and support network dedicated to helping them develop exciting new revenue streams to help achieve optimum return on investment.
RENT RICOH OFFICE MULTIFUNCTIONAL LASER COLOR PRINTER
CONTACT US FOR AMAZING PROMO DEALS ON LASER COLOR RICOH OFFICE PRINTER SCANNER COPIER