Sharp MX-3571 Color Digital Multifunctional Printer (Print, Copy, Scan, Fax, File) With Touchscreen Display And Mobile Supports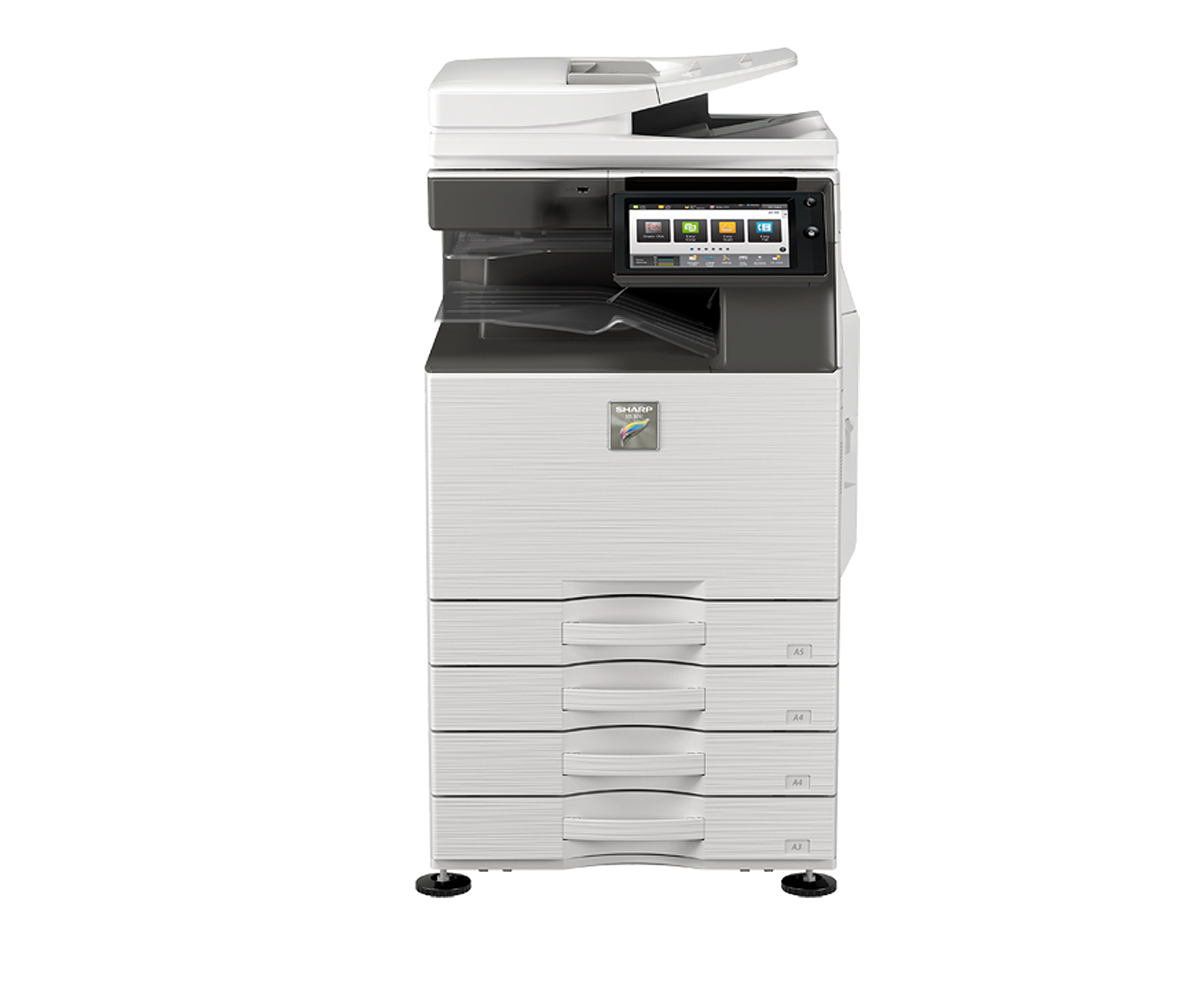 Call 905-326-2886 We are ready to help! 
Lowest Copier Prices !!!
The MX-3571 is designed to keep your valuable business information secure, but also enable flexible workflows –providing exceptional ease-of-use, simple connectivity and effortless mobility to optimise workforce efficiency. 
Print, Copy, Scan, Fax, File
Pages per minute: 35 B/W 35 Colour
Paper capacity: Std 650 Max 6,300 sheets
Short warm up time and motion sensor ensure that the device is always ready for immediate operation
Customisable, tiltable 10.1 inch colour LCD touchscreen with easy UI mode enables intuitive navigation of MFP functions
Print Release function gives users the ability to send and store documents on a main MFP for authentication and print out from any networked MFP
Overview
The Sharp MX-3571 Advanced Series Colour Document Systems are built using the latest technology available to deliver the performance, features and reliability needed in today's busy workplace environments. These new MFPs are also easy-to-use and offer enhanced productivity, all to provide customers with a seamless, intuitive experience, and the confidence in knowing their jobs will come out right the first time, every time. The new Colour Advanced Series also offers leading-edge security features to help businesses protect their data and personal information.
Key Feature
EASE OF USE – Award-winning touchscreen display offers a user-friendly graphical interface with simplified Easy Modes, integrated user guides and quick access to network services.
PRODUCTIVE FEATURES – Standard full multifunction capability out-of-box, including copying, network printing and colour network scanning, combines with Sharp's enhanced Colour Consistency System for long-lasting high-quality output page-after-page.
WORKPLACE FRIENDLY – Integrates seamlessly with today's complex network environments, and supports popular cloud services and mobile technologies. And with Sharp's new Application Portal administrators can add new apps or update existing apps right from the MFP.
Simple and Intuitive Operation
From the most basic of copy functions, to the most complex scan jobs, the Colour Advanced Series will perform them with ease and efficiency. Use one of the Easy Modes for fast, simple operation, with basic functions displayed in large, clearly-labeled tiles and keys. Easy Modes are available for the standard copy and scan functions, as well as for the optional fax expansion kit. And for more advanced features, just touch the "Details" button–it's that easy.
The Productivity You Need with the Performance You Want
When it's time to get the job done, the Advanced Series colour document systems are outstanding performers. Quickly scan documents at speeds up-to 220 ipm. Then use the manual stapling feature on select finishers to restaple your originals. Multiple finishing options give you the output you require, be it stacked, stapled, or saddle-stitched. There's even an available built-in stapleless finishing feature, which can bind up-to five sheets of paper by adding a crimp to the corner of the set, saving regular staples for larger sets. These models also feed up-to 50 envelopes from the standard paper tray.* See specifications for a list of supported envelopes.
Distribute, Access and Print Your Documents with Ease
Sharp makes it easy to go beyond traditional network scanning with standard Email Connect and Cloud Connect features. With Email Connect, scan to email is seamlessly integrated with Microsoft Exchange/Office 365 and Gmail user accounts, making it easy to identify the sender of scanned files. With Cloud Connect, users can easily scan-to and print-from Microsoft OneDrive for Business, SharePoint Online, Google Drive, Box and Dropbox. And with Sharp's new Application Portal, administrators will be able to easily add new apps and update existing apps right from the MFP touchscreen panel.
Scan and Print Files Easily from Mobile Devices
The Advanced Series colour document systems also make it easy to scan and print files from tablets and smartphones using Sharpdesk Mobile, a free downloadable app available for most mobile devices. These new models also support popular mobile technologies such as Apple Airprint, Android print framework and Google Cloud Print. With standard wireless networking, users can also print directly to the MFP from mobile devices without interfering with the corporate network!* Go to www.sharp.ca for a list of supported equipment and operating systems.
Simplify Managing Different File Types with Intelligent Image Processing
With standard OCR capabilities, users can easily scan and convert documents to popular file formats including Microsoft Word, PowerPoint and Excel, as well as Searchable PDF, Encrypted PDF and others. You can even directly print these same file types from thumb drives, cloud applications and mobile devices. This function is enabled via Qualcomm DirectOffice technology. These new models also support the new Adobe Embedded Print Engine, which direct prints PDF files with greater accuracy and performance.
Flexible Printing Solutions Help Maximize Productivity
Standard PCL 6 and Adobe PostScript 3 printing systems to help you speed through all of your output needs. Sharp's Serverless Print Release feature enables users to securely print a job and release it from up-to six supported models on your network. And with Google Cloud Print, you can send print jobs from Chromebook notebook computers, PCs and more from virtually anywhere. 
Simplify Complex Business Workflows with Sharp OSA Technology
Sharp OSA technology can help your business leverage the power of your network applications, back-end systems and cloud services. Easily automate complex processes and help eliminate redundant tasks. Talk to your authorized Sharp dealer to see how they can help you implement a streamlined workflow solution.
Powerful performance
Standard 150-sheet duplexing single-pass document feeder scans documents at speeds up-to 220 images per minute (ipm).
Flexible paper handling supports media up-to 110 lb. cover (300 gsm) and feeds up-to 12" x 18" through the paper trays, allowing users to print on a wide variety of media, including envelopes through the standard paper tray and bypass tray.
Network-ready PCL 6 and Adobe PostScript 3 printing systems ensure your documents print with the clarity and formatting you expect.
Easily convert documents to popular Microsoft file formats as well as a variety of PDF formats. You can also direct print these same file types from thumb drives, cloud applications and more. This function is enabled via Qualcomm DirectOffice technology.
Award-winning 10.1" (diagonally measured) customizable touchscreen display with a clean design enables easy access to features and functions when setting up jobs.
Built-in walk-up motion sensor automatically detects approaching users and immediately wakes the machine, making it ready for use within seconds.
Standard wireless networking feature can connect directly to your network or to mobile devices for convenient scanning and printing with the Sharpdesk Mobile App.
Access popular cloud services, such as Microsoft OneDrive for Business, SharePoint Online, Google Drive, Dropbox and more with Sharp's Cloud Connect feature. And with Sharp's new Application Portal administrators can add or update apps right from the MFP.
Sharp's Colour Consistency System delivers high quality colour output and helps maintain optimum image balance and toner density page after page.
Multi-layered, leading-edge security features provide enhanced protection and help businesses stay one step ahead of hackers and malicious network intruders. An End-of-Lease feature can erase all data and personal information at time of trade-in.
An Environmentally Responsible Approach to Product Design
Sharp is committed to environmental sustainability and corporate responsibility including: planning, design, manufacturing, distribution and product end-of-life management. Sharp adheres to Green Products Guidelines in pursuit of these commitments. These guidelines include: designing products that consume less power, using recycled materials, reducing the amount of material used in products and packaging, and labeling the type of materials used. Sharp also aims to design products that are upgradable, easy to repair, and easy to take apart for recycling.
The MX-3571 document systems is Energy Star qualified and RoHS compliant to restrict the use of hazardous substances. These products also have the lowest TEC (Typical Electricity Consumption) value among competitive models, at time of this printing.
You can get the best Color/Monochrome Multifunction printers with the latest design and features from Toronto Copiers. We deal with all your needs for office copiers/printers and toner and ink cartridges in Toronto area.