SHARP MXC507F 50 PPM Color Desktop Multifunctional Copier Printer Scanner Fax With Smart Connectivity For Office Use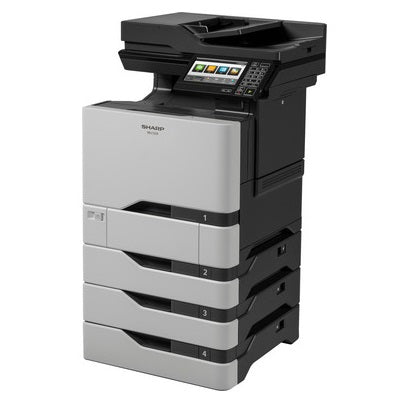 Call 905-326-2886 We are ready to help! 
Lowest Copier Prices !!!
The MX-C507F is a 4-in-1 A4 colour MFP that offers a host of productivity features that suits the needs of a small workgroup and medium or large offices.
Print, Copy, Scan, Fax, File
Pages per minute: 47 B/W, 47 Colour
Paper capacity: Std 650 Max 2300 sheets
7" colour LCD touchscreen with Easy UI mode and intuitive operation
Advanced fast scanning technology, connects to your digital systems with scan speeds of 56ipm
Easy access to public cloud services
Energy management features that reduce power consumption
Overview
The MXC507F DESKTOP COLOUR DOCUMENT SYSTEMS deliver crisp, high-quality output with exceptional ease-of-use. These models provide customers with an intuitive user experience and the confidence of knowing their jobs will come out right the first time, every time. Designed with robust features and technology typically found on larger machines, the MXC507F deliver the productivity you need with the performance and reliability you want in your workplace or home office.
Key Features
EASE-OF-USE – Intuitive 7" (diagonal) touchscreen display offers a user-friendly graphical interface with simplified Easy Modes, integrated user guides and quick access to network services.

PRODUCTIVITY – Out-of-the-box copy, print, scan and fax capabilities standard plus Cloud Connect features and optional wireless connectivity enables users to easily manage their workflow from PCs, smartphones and tablets.

WORKPLACE FRIENDLY – Integrates seamlessly with today's complex network environments and supports popular cloud services and mobile technologies. Sharp utilizes system updates to provide feature enhancements and to ensure your machine remains compatible with current technology.
The compact MXC507F DESKTOP COLOUR DOCUMENT SYSTEMS offer powerful productivity features enabling users to quickly execute workflow tasks whether in the office or working from home.
Designed to deliver high productivity
Standard copy, print, scan and fax capability right out-of-the-box.

50-sheet reversing document feeder scans both sides of a document in a single pass for enhanced productivity.

Supports letter size, legal size and envelopes through the standard paper drawer or bypass tray.

Offers up-to five paper sources with available 2,300-sheet maximum paper capacity.

7" (diagonal) colour touchscreen with adjustable viewing angle offers smooth, tablet-style interaction.

Standard compact PDF feature dramatically reduces the file size of most colour scanned documents.

Convenient USB port located in the front of the device lets users access the machine quickly when printing direct from a USB drive.

Print Microsoft Word, Excel, or PowerPoint files directly from a mobile device, USB drive, or file server.

Standard Optical Character Recognition (OCR) on the MXC507F allows users to convert a scanned document into a searchable PDF file or into an editable Word file.

Supports popular mobile technologies, enabling users to easily print files from smartphones, tablets and even notebook computers.

Protect your intellectual property. A wide range of security features help to keep your information safe, whether it's in a document, on the device, or over your network.
Simple and Intuitive Multifunction Printer (MFP) with Impressive Performance
When it's time to get the job done, the MXC507F are outstanding performers. Quickly scan documents at speeds up-to 60 images per minute. From basic copy functions to complex scan jobs, these models can get the job done efficiently. Use one of the Easy Modes for fast, simple operation, with basic functions displayed in large, clearly-labeled tiles and keys. For more advanced features, simply touch the "Detail" key.
A "Well-connected" Device
Connecting an MFP to your wireless network and accessing it from mobile devices has never been so easy with the MXC507F optional wireless networking features. Print-from or scan-to popular cloud services such as Microsoft OneDrive for Business, SharePoint Online, Dropbox, Box and Google Drive with the Cloud Connect feature.
Distribute, Access and Print Your Documents with Ease
Sharp makes it easy to go beyond traditional network scanning with standard Email Connect and Cloud Connect features. With Email Connect, scan to email is seamlessly integrated with Microsoft Exchange/Office 365 and Gmail user accounts, making it easy to identify the sender of scanned files. With the Cloud Connector users can easily scan-to and print-from Microsoft OneDrive for Business, SharePoint Online, Google Drive, Box and Dropbox.
Scan and Print Files Easily from Mobile Devices
Easily scan and print files from tablets and smartphones, popular mobile technologies such as AirPrint and Android printing framework. When optional wireless networking is added, users can also print directly to the MFP from mobile devices without interfering with the corporate network!
Manage Different File Types with Intelligent Image Processing
Easily scan documents to popular file formats including Microsoft Word, a variety of PDF formats such as Searchable PDF, TXT, RTF and others. You can also direct print these same file types from thumb drives, cloud applications and mobile devices.
Flexible Printing Solutions Help Speed Up Your Office Productivity
Standard with PostScript 3 and PCL 6 compatible printing systems to help you speed through all of your output needs with accuracy. This feature allows you to easily and quickly print from Chromebook notebook computers, PCs and more with precision.
Adaptability with Complete Business Workflows
Embedded solutions let users load and run software solutions tailored to their specific need or industry. Properly configured, apps installed on the MFP can interact with users' unique processes, applications and data repositories, with custom icons to drive each process, if desired.
You can get the best Color/Monochrome Multifunction printers with the latest design and features from Toronto Copiers. We deal with all your needs for office copiers/printers and toner and ink cartridges in Toronto area.