Sharp MXM1055 Monochrome Digital Multifunction Printer Copier Scanner With 105 Pages Per Minute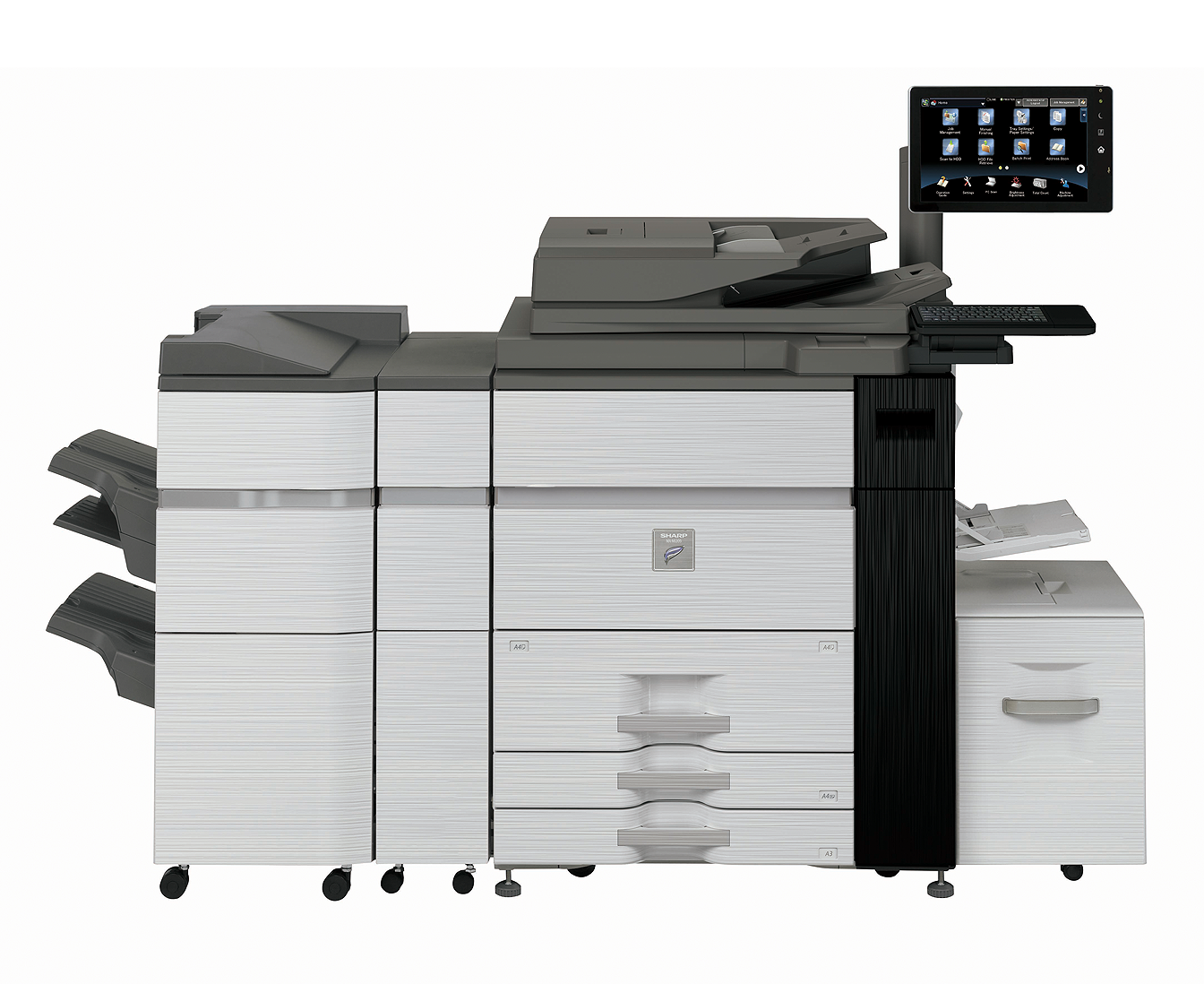 Call 905-326-2886 We are ready to help! 
Lowest Copier Prices !!!
105 PPM Digital Multifunction
Maximum Paper Capacity: 13,500 sheets
Designed for both High-Volume Office and Light-Production Environments
Flexible modular design offers a variety of configurations from small to large
Overview
The MXM1055 High Perfomance Monochrome Document Systems is the latest additions to the Sharp Pro Series light production lineup. Built on award-winning technology, these models add advanced workflow capabilities with EFI's latest Fiery platform that helps set the bar for the ultimate in efficiency and operation. The new Fiery Print Server MXPE11 provides in-plants and Central Reprographics Departments (CRD) with the advanced workflow capabilities they expect.
Key Features
LARGE, HIGH-RESOLUTION 15.4" COLOUR TOUCHSCREEN display with swing out keyboard and touch pad streamlines operation and job management.
TRIPLE-AIR PAPER FEED UNITS combined with the Print Engine Paper Catalogue (PEPC) offer a wide range of paper types to be utilized with high precision and reliability.
THE NEW POWERFUL FIERY PRINT SERVER is available for advanced workflows and high productivity. Command WorkStation is fully integrated with the Sharp touchscreen for unmatched control and ease-of-use.
The MXM1055 also support Sharp OSA technology, which makes integration with network applications and cloud services simple and easy. Sharp's industry-leading security platform incorporates standard 256-bit data encryption and overwrite protection to help safeguard your business's intellectual property. And when it comes time to trade in, a convenient End-of-Lease feature can erase all job data and user data.
Production class paper handling with Air-feed Technology
Sharp understands the importance of productivity, that's why the MXM1055 Monochrome Document Systems offer the new Print Engine Paper Catalogue (PEPC), which resides on the print engine and allows up to 1,000 custom paper entries, giving operators ultimate control when handling the specific characteristics of their preferred paper. Bringing together Sharp's exclusive triple air-feed large capacity tray option with the comprehensive paper catalogue helps ensure precise paper handling and excellent print results on a wide range of media.
Intuitive Job Management
Sharp's Document Filing System provides a 1 TB hard disk drive to store frequently used files. With the thumbnail preview mode, stored jobs can be located and retrieved quickly. Easily reprint retained jobs, combine jobs, re-paginate jobs, edit pages and more. For environments with critical documents, a redundant back-up hard drive is available
High performance – superior image quality
Manage jobs and access the full functionality of Fiery Command WorkStation integrated on the large Sharp touchscreen display. 
Produce documents of the highest image quality possible and inspect jobs before they print with the optional Fiery ImageViewer. 
Process large, complex VDP jobs fast to maximize throughput and utilize maximum engine capacity.
Highly versatile powerhouse
The MXM1055 Series Monochrome Document Systems offer a choice of two high powered print servers to meet the demands of CRDs and in-plants at speeds up to 105 ppm respectively.
High Quality Professional Output
Produce compelling black and white documents with crisp razor-sharp graphics. True 1200 x 1200 dpi resolution helps ensure all your documents will look great every time.
Versatile Finishing Options
Two powerful finishing systems are available – a 4,000-sheet stacking finisher with 100-sheet stapling capacity or a 4,000-sheet saddle-stitch finisher, which can produce up to 80-page professional booklets with the available face trimmer unit.
Modular Options Make It Easy To Build the System of Your Choice
Options for the MXM1055 enable businesses to choose from several high performance finishing systems that offer up to 100-sheet stapling, professional saddle-stitch booklet making and three-hole punching. More advanced configurations include a square-fold spine Booklet Making System, a professional punching system, high capacity paper stackers, a two-tray inserter, a multi-folding unit and a trimmer unit.
Integrating with Network Applications and Cloud Services Has Never Been So Easy
With standard Application Communication and External Accounting modules, the MXM1055 Monochrome Document Systems offer powerful document workflow capabilities to help businesses leverage their network infrastructure, cloud-enabled services and more.While others are limited to a small circle of productivity, the Sharp OSA development platform allows businesses to leverage the power of their network applications, back-end systems, even cloud-enabled services, right from the touchscreen panel of this new series.
Save Time, Increase Efficiency
You'll save time and increase the efficiency of everyday tasks with Sharp OSA technology because it can be virtually seamless to the user. Any MXM1055 anywhere in the organization can display choices that were once only available on a desktop PC. With one-touch access to business applications via Sharp OSA integration, you can start and finish a document distribution task without worry.
An Environmentally Responsible Approach to Product Design
The MXM1055 Monochrome Document Systems utilize Sharp's advanced micro-fine toner technology, which offers a lower consumption rate and produces less waste than conventional toners, resulting in longer replacement intervals. Sharp supplies are packaged using fully recyclable materials. Long-life consumable parts help minimize service intervals and downtime, resulting in lower operating costs. With two different energy saving modes, power can be reduced or shut off at set intervals. RoHS compliant to restrict the use of hazardous substances. These products also have the lowest TEC (Typical Electricity Consumption) value among competitive models. Sharp MFPs are EPEAT registered.
Toner Recycling Program
As part of our commitment to helping preserve the environment, Sharp offers our customers zero-waste-to-landfill recycling for all Sharp consumables, including: cartridges, bottles, toner collection containers and drum units. Sharp encourages customers to recycle their used Sharp toner cartridges in bulk by providing (Prepaid Shipping Labels) for their return to our facility. 
Innovative document and device protection helps ensure confidentiality.
To help protect your data, the MXM1055 offers several layers of Standard Security, making Sharp the optimum choice to help protect employees' privacy and intellectual property. As a leader in office equipment security, Sharp makes it easy for virtually any business or government entity to safely deploy digital copying, printing and scanning.
You can get the best Color/Monochrome Multifunction printers with the latest design and features from Toronto Copiers. We deal with all your needs for office copiers/printers and toner and ink cartridges in Toronto area.