Sharp MXM1056 Black And White Digital Multifunctional Printer Copier Scanner With 105 Pages Per Minute For Business Use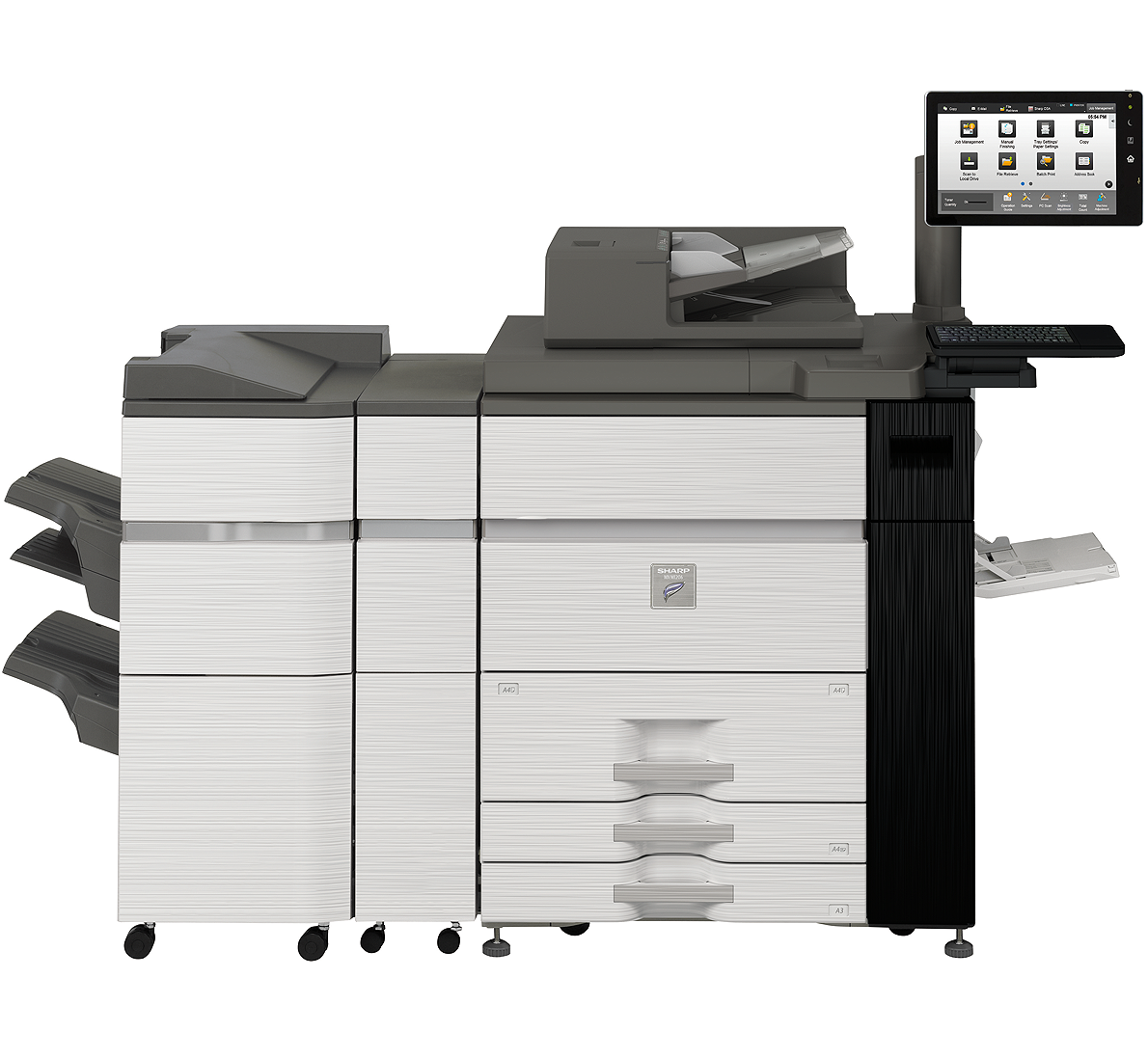 Call 905-326-2886 We are ready to help! 
Lowest Copier Prices !!!
300-sheet Duplexing Single Pass Feeder (DSPF) scans documents at up-to 240 images per minute.
Up-to 13,500-sheet paper capacity supports media up-to 110 lb. cover stock (300 gsm).
Adobe Embedded Print Engine technology, which direct prints PDF files from a variety of sources with greater performance and rendering accuracy.
Overview
From scan-centric environments to in-plant copy rooms, the Sharp monochrome Pro Series MXM1056 deliver advanced features that can help streamline your workflow like never before. These models are built on proven technology with award-winning reliability to handle the rigorous demands of high-volume environments. The latest EFI Fiery platform allows for ultimate efficiency and operation, while providing unparalleled results.
Key Features
Ease-of-Use – Award-winning touchscreen display offers a user-friendly graphical interface with simplified Easy Modes, intuitive job management and quick access to network services.
Available GBC SmartPunch Plus – Fully automated in-line punching system that dramatically streamlines workflow from printing to punching, perforating or creasing in one easy step.
Powerful Fiery Print Server – Optional print server for advanced workflows and high-productivity. Command WorkStation is fully integrated with the Sharp touchscreen for unmatched control and ease-of-use.
POWERFUL PERFORMANCE, STRONG PRODUCTIVITY
Designed and built for print-on-demand environments with world class features that exceed expectations.
300-sheet Duplexing Single Pass Feeder (DSPF) scans documents at up-to 240 images per minute.
Scan Preview feature offers on-the-fly page editing with easy fingertip navigation.
Triple air-feed paper handling option offers high-reliability and is virtually maintenance-free.
Print Engine Paper Catalogue stores up-to 1,000 media profiles for optimal print quality.
Adobe Embedded Print Engine technology, which direct prints PDF files from a variety of sources with greater performance and rendering accuracy.
High-performance print controller with included PCL 6 and Adobe PostScript 3.
Up-to 13,500-sheet paper capacity supports media up-to 110 lb. cover stock (300 gsm).
True 1,200 x 1,200 dpi printing provides beautiful images and enhanced clarity for fine details such as small text and graphics.
Easily access popular cloud applications, including Microsoft OneDrive for Business, SharePoint Online, Box and Google Drive, with the Sharp Cloud Connect feature.
Standard Job Management features make it easy to print on-demand as well as view jobs, retain jobs, combine jobs, select print settings and more.
Easily convert documents to popular Microsoft file formats, as well as a variety of PDF formats, with standard OCR (Optical Character Recognition) capabilities.
Leading-edge, multi-layered security features include Firmware Attack Prevention and Self Recovery, Application Whitelisting, and the convenient Sharp End-of-Lease feature, which erases all data from the device at time of trade-in.
Precise document handling with best-in-class features.
Sharp Understands the Importance of Productivity
A high-capacity 300-sheet Duplexing Single Pass Feeder (DSPF) which scans documents at up-to 240 images per minute is standard. This dual head feeder scans both sides of a document in a single pass, which helps maximize both efficiency and reliability. And for added convenience, it also includes a business card feeder for scanning a stack of up-to 150 individual cards.
Distribute, Access and Print Your Documents with Ease
Sharp makes it easy to go beyond traditional network scanning with standard Email Connect and Cloud Connect features. With Email Connect, scan to email is seamlessly integrated with Microsoft Exchange/Office 365 and Gmail user accounts, making it easy to identify the sender of scanned files. With Cloud Connect, users can easily scan to and print from Microsoft OneDrive for Business, SharePoint Online, Google Drive, Box and Dropbox. For touchless operation, documents can be printed, copied and scanned with Synappx Go on your personal device.
Production Class Paper Handling with Air-feed Technology
The Pro Series monochrome document systems offer up-to 13,500-sheet paper capacity and support media types up-to 110 lb. cover (300 gsm). The Sharp 5,000-sheet large capacity paper feed option uses air-feed technology, which maximizes reliability and minimizes downtime.
Advanced In-line Production Punch, Crease and Perforation
Fully automated multifunctional GBC SmartPunch Plus, in-line professional finishing solution provides greater productivity and flexibility. With the new double punch, crease and perforation dies, customers can expand their finishing capabilities like never before. The SmartPunch Plus operation panel decreases operator time and provides increased control and convenience, saving valuable time and money.
High-Productivity – Intuitive Operation
Improved Productivity
Offering the highest performance-boosting power in its class, so you can get more work done, faster. Based on the latest Fiery FS400 Pro system software, the MXPE16 Fiery Print Server delivers performance-boosting features that shorten turnaround times and produce fully-finished jobs that stand out and help differentiate your business.
Intuitive Centralized Print Job Management
The MXPE16 Fiery Server utilizes Fiery Command WorkStation as a centralized solution for print job management. The intuitive interface enables operators to monitor, prepare and troubleshoot jobs for production from multiple client computers or locally from the Sharp Pro Series touchscreen display.
Get More Out Of Network Resources
Streamline your document workflow and enhance productivity with Sharp OSA technology.
Integrating with Network Applications and Cloud Services Has Never Been So Easy
The MXM1056 monochrome document systems deliver powerful document workflow capabilities to help businesses leverage their network infrastructure, cloud-enabled services and more. The Sharp OSA development platform allows businesses to harness the power of their network applications, back-end systems, even cloud-enabled services, right from the touchscreen panel of the device.
Save Time, Increase Efficiency
Any MXM1056 anywhere in the organization can display choices that were once only available on a desktop PC. With one-touch access to business applications via Sharp OSA integration, you can start and finish a distribution task without worry.
Customized Integration
Sharp OSA technology also provides powerful customization. With the ability to personalize applications and processes specific to your business, Sharp OSA technology can help eliminate redundancy and streamline workflow. And since Sharp OSA technology utilizes industry-standard programming languages and web APIs, third party software developers can deliver customized solutions to your business faster than ever.
Advanced Device Management Tools Maximize Efficiency
Enhance operational efficiency through versatile device management with the MXM1056.
Sharp Remote Device Manager
With Sharp Remote Device Manager (SRDM), administrators can take control of system features and simplify installation and management. SRDM makes it easy to view service logs, click counts, history reports and more. The security dashboard monitors settings and can automatically reset the security policy if changed at the machine. Also, Admin Password Management and Centralized Power Management make it easy to deploy changes. Sharp also offers both built-in and additional auditing hardware and software to control, access and track usage.
Take Charge of Usage and Costs
Through the Sharp Embedded Web Page, administrators and supervisors can define User Groups on the MXM1056 to manage and restrict features such as copying, printing, and scanning. Custom user groups can be easily created to manage page counts.
You can get the best Color/Monochrome Multifunction printers with the latest design and features from Toronto Copiers. We deal with all your needs for office copiers/printers and toner and ink cartridges in Toronto area.