Toshiba E-Studio 1207 Black And White Multifunction Printer Copier Scanner For Office Use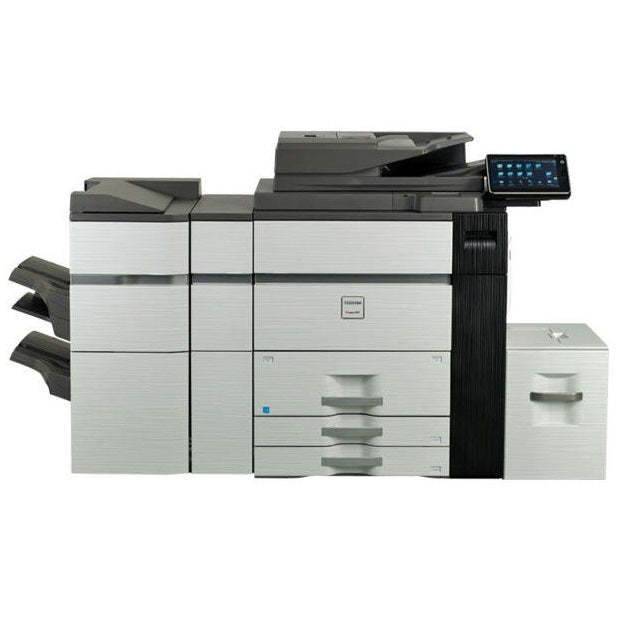 Call 905-326-2886 We are ready to help! 
Lowest Copier Prices in Canada !!!
B/W Multifunction Printer

Up to 120 Page Per Minute

Departmental Workgroups

Copy, Print, Scan, Fax

Eco Features
Overview
If you are looking for ways to help your business grow even faster, Toshiba has the perfect solution, the e-STUDIO 1207. It has the speed, reliability and paper handling capabilities that are needed to fuel your productivity in powerful ways.
Fast and phenomenal.
From the very get-go, you'll appreciate what the e-STUDIO 1207 has to offer. With a warm-up time of 3.5 minutes and a first copy out time as fast as 3.2 seconds, you can use the intuitive, 10.1" finger swipe touch panel to select what you need, and how you need it handled. At 90 pages per minute respectively, you'll also get it right when you need it. Scanning speed is an amazing 120 originals per minute (opm) for single sided documents and an even faster 200 opm for double sided.
The workflow workhorse.
Outstanding image quality at 1,200 x 1,200 dpi is consistently impressive, even across long print runs. You can rest assured documents of all sizes will turn out precise and accurate, run after run after run. And, you can use a variety of media up to 120lb index.
Everything you need, even faster.
Increasing production while decreasing the time it takes can make a big difference for businesses of all sizes. When the demand is great, Toshiba offers a solution that's even greater.
Efficiency configured your way.
The e-STUDIO 1207 has it all, only faster. Copy, print, and scan with a myriad of paper handling, input and finishing options, not to mention an enormous paper capacity, genuine Adobe PostScript support, ample document storage and a low operating cost. Create whatever configuration works best for your particular needs by choosing from high capacity stackers, large capacity paper trays, folding units and finishers. It's high speed functionality configured just the way you want it. 
Lead with innovative technology.
There are several advantages that make the e-STUDIO 1207 the most distinctive choice. An ultra fast processor with more than enough memory allows you to tackle larger jobs in less time and process difficult tasks without breaking stride. Thanks to Gigabit Ethernet support, you can transfer extra-large files at breakneck speeds. In addition, a 1 Terabyte HDD will store as many as 35,000 pages or 5,000 files. It's everything you need and more of what you want.
Productivity that's safe, secure and good for the environment.
As data security and environmental responsibility become increasing concerns, Toshiba continues to stay well ahead of the demand. Both have been integral to our continuing innovations.
Security matters.
Businesses need to keep their data where it belongs. That's why we have put many safeguards in place and are continually working to increase data security. The e-STUDIO 1207 series includes Data Overwrite, Encryption, Authentication, Hidden Pattern Printing and Image Logs to help data stay secure. In addition, an Erase Private Data feature makes it easy to remove all stored information instantly.
Greener and cleaner.
Our increasing impact as a company is partly due to our success in reducing the environmental impact of businesses worldwide, including our own. The Toshiba e-STUDIO 1207 is no exception, being RoHS Compliant and Energy Star rated. It utilizes CO2 reducing plastics and toner, Energy Save and Eco Modes, Enhanced Power Shut-Off and Eco Scan as well as a reduced TEC value. After all, working to preserve our environment is certainly worth the effort.
Multifunctional power in action.
Not that we could fit all the features and benefits of the e-STUDIO 1207 on one page, but take a look at these, for starters
Ease of use
A control panel with touch swipe functionality allows for intuitive use. A retractable pulldown keyboard is easily accessible on the front panel to address text-heavy tasks. And, if you need help, access to the entire user manual is at your fingertips.
Picking up the pace
You have your choice of impressive speeds 90 pages per minute. First Copy Out Times are under 4 seconds for the e-STUDIO 1207 .
High security
Data Overwrite, Encryption, Authentication, Hidden Pattern Printing, and an Image Log feature help keep your data safe. The Erase Private Data function makes it easy to remove stored data instantly.
Environmentally friendly
RoHS Compliance, Energy Star rated, CO2 reducing plastics and toner, Energy Save and Eco Modes, Enhanced Power Shut-off and Eco Scan are combined for an impressively eco-friendly series.
You can get the best Color/Monochrome Multifunction printers with the latest design and features from Toronto Copiers. We deal with all your needs for office copiers/printers and toner and ink cartridges in Toronto area.