Toshiba E-Studio 2510AC 25PPM Multifunction Color Printer Copier Scanner Available For Sale In Toronto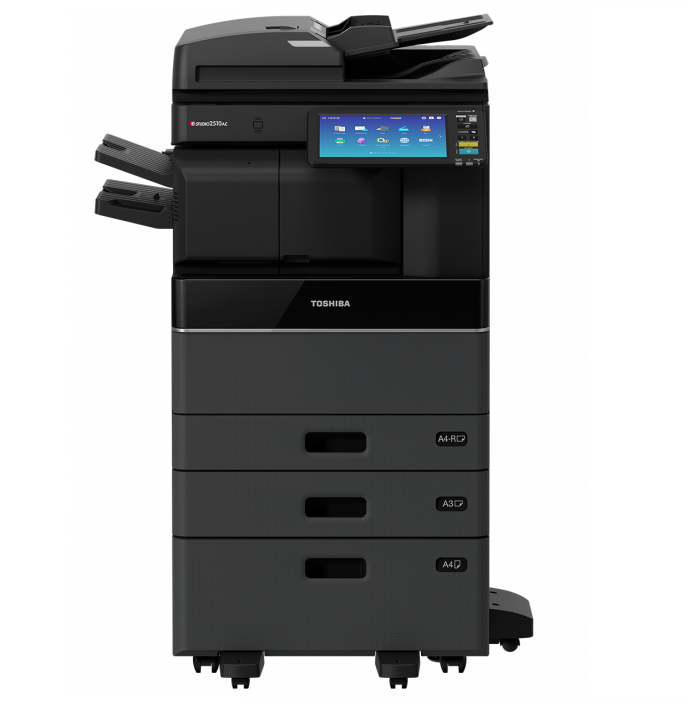 Call 905-326-2886 We are ready to help! 
Lowest Copier Prices in Toronto !!!
Color Multifunction Printer
Up to 25 page per minute
Small/Medium Workgroup
Copy, Print, Scan, Fax
Overview
Technology for every workplace
Every business is unique. Toshiba's latest 2510AC delivers on our commitment to collaborate with clients to provide tailored, cost-effective solutions that meet your print, document management, and content needs while helping you to meet your green objectives.
25 PPM
Affordable, high-resolution color
High-volume b/w and color
Fast dual-core processor
Simple, smart and stylish.
A larger 10.1" tablet-style touch screen with an embedded web browser is easy to use, and customizable to meet your needs, enhancing the sleek and modern look of the complete series.
Technology makes it possible.
It's important that an Multifunction is powerful, reliable, and efficient. Add color to that and you have even more ways to make your documents impactful.
Up to 600 dpi x 1,200 dpi (PS3)
256 gradations provide ultra-smooth transitions in photos and illustrations
Auto-calibration ensures consistency of color across small and large print jobs
Elevate streamlines complicated multi-step processes into automated, one-touch functions.
We know you have work to do and at Toshiba we've introduced a new concept designed to make your job easier and more productive by personalizing the Multifunction user interface around your specific business processes.
Elevate enables customized and automated workflow presenting the user with convenient one-touch functions addressing only the tasks they use most. This results in simple operation and improved efficiency leading to an overall cost savings. Let Toshiba Elevate your productivity.
Customize and automate workflows specifically around your business processes
Boost productivity by reducing manual and paper intensive processes in the office
Personalize the user interface by department to deliver the utmost efficiency
Cost savings and greater efficiency through improved workflow and productivity
Clear away clutter and confusion on home screen by presenting only the tasks used most