Toshiba E-Studio 3015AC Multifunction Color Printer Copier Scanner With Touch Screen For Sale In Toronto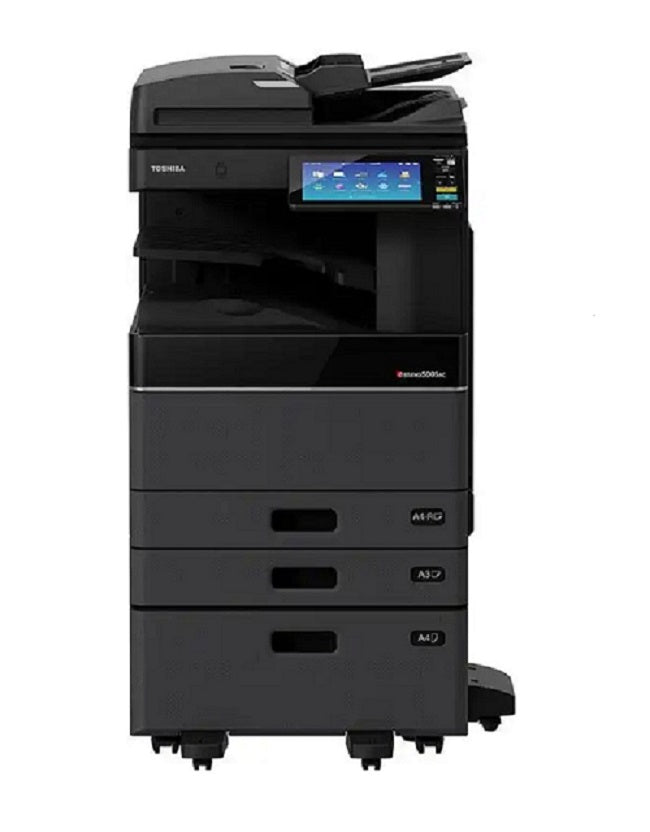 Call 905-326-2886 We are ready to help! 
Lowest Copier Prices in Toronto !!!
Color Multifunction Printer
Up to 30 Page Per Minute
Medium Workgroup
Copy, Print, Scan, Fax
Delivering Advanced Functionality
Overview
Technology for every workplace
Keeping medium to large workgroups in mind, the e-STUDIO 3015AC is easily integrated, customizable and solutions ready with Toshiba's Open Platform. Every business is unique. Toshiba's latest 3015AC delivers on our commitment to collaborate with clients to provide tailored, cost-effective solutions that meet your print, document management and content needs while helping you to meet your green objectives.
30 

Page Per Minute

High-resolution color
High-volume b/w and color
Fast dual-core processor
Simple, smart and stylish.
A larger 10.1" tablet-style touch screen with an embedded web browser is easy to use, and customizable to meet your needs, enhancing the sleek and modern look of the complete series.
Toshiba's latest e-BRIDGE Next controller delivers exceptional color quality.
Don't restrict yourself to black and white when you can print with eye-catching color. It's Toshiba's sophisticated color system with high resolution for top-notch image quality
Up to 3,600 (Equivalence) dpi x 1,200 dpi (BW/with smoothing, PostScript 3)
256 gradations for smooth transitions in photographs and illustrations
Auto-calibration and user calibration ensure consistency of color across small and large print jobs
Elevate streamlines complicated multi-step processes into automated, one-touch functions.
We know you have work to do and at Toshiba we've introduced a new concept designed to make your job easier and more productive by personalizing the Multifunction user interface around your specific business processes.
Elevate enables customized and automated workflow presenting the user with convenient one-touch functions addressing only the tasks they use most. This results in simple operation and improved efficiency leading to an overall cost savings. Let Toshiba Elevate your productivity.
Customize and automate workflows specifically around your business processes
Boost productivity by reducing manual and paper intensive processes in the office
Personalize the user interface by department to deliver the utmost efficiency
Cost savings and greater efficiency through improved workflow and productivity
Clear away clutter and confusion on home screen by presenting only the tasks used most
Tight Security
Along with all of the new and innovative Toshiba technologies, we regard the security of your business a top priority.
A 320GB Self-Encrypting Drive (SED) with Automatic Drive Invalidation (ADI) and Data Overwrite capability provides top level security
Available FIPS 140-2 Validated SED meets and exceeds strict government requirements
IPsec is available to securely encrypt data sent to-and-from the Multifunction Printer
Environmental Protection
Innovation that is truly innovative makes certain that our environment is part of the equation, which is precisely what we do here at Toshiba.
RoHS compliance, the use of recycled plastics, and Super Sleep (0.6W) Mode work to help the environment
EPEAT Gold Registered for greener electronics, designed to help purchasers choose products that reduce environmental impact
The new e-STUDIO models' Typical [weekly] Electrical Consumption or TEC value is exceptionally low, equating to an environmentally friendly product with a low operating cost too
Double the Scan Speed
A 300-sheet high-speed, high-capacity Dual-Scan Document Feeder (DSDF) produces up to 120 IPM simplex and 240 IPM duplex. A conventional RADF is available for less scan-intensive businesses.
Multi-Station Print Enabler
Toshiba's internally developed Multi-Station Print Enabler, now with support of up to 50 e-STUDIO devices, allows users to send print jobs from their desktop and retrieve them by simply swiping their card and authenticating at any convenient Multifunction Printer.
Envelopes—the Perfect Fit
A special envelope cassette is available to hold up to 60 envelopes, making sure each one is fed and printed in the same place, every time.
You can get the best Color/Monochrome Multifunction printers with the latest design and features from Toronto Copiers. We deal with all your needs for office copiers/printers and toner and ink cartridges in Toronto area.