Toshiba E-Studio 4508LP Monochrome Multifunction Printer with Erasable Print Function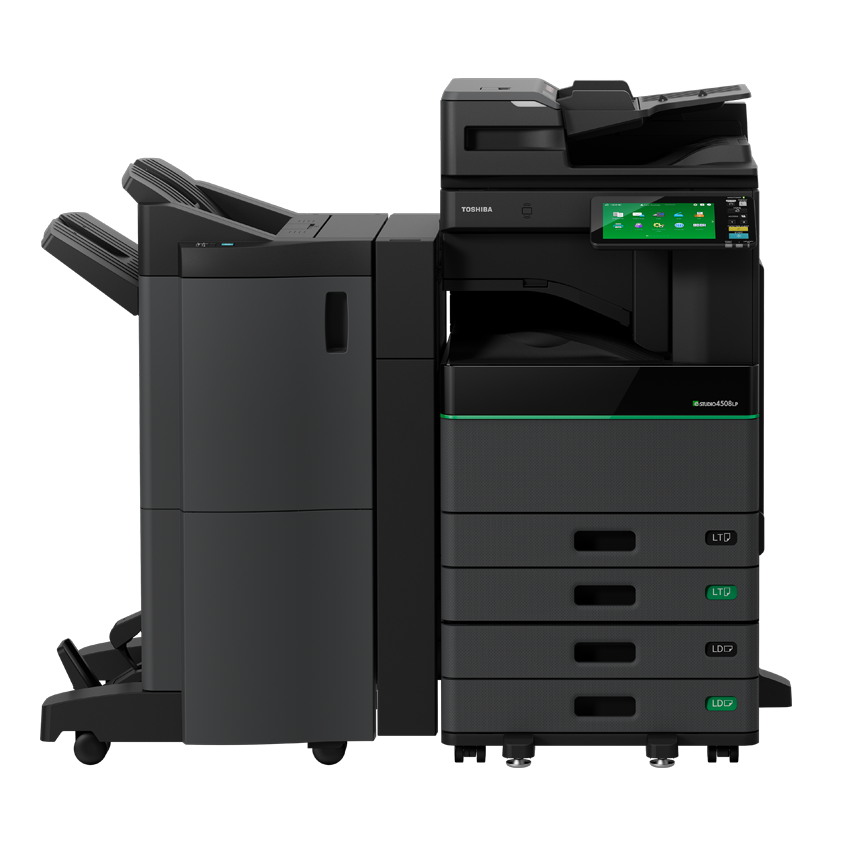 Call 905-326-2886 We are ready to help! 
Lowest Copier Prices in Canada !!!
The world's first black and white multifunction system with erasable print function
Thanks to the unique Hybrid printing technology, one single device can output black and white as well as reusable prints, which saves paper.
Equipped with state-of-the-art features for modern document workflows.
Designed for businesses that want to combine ecology, economy and efficiency
Overview
CONNECT, INTEGRATE, SIMPLIFY AND REUSE
Toshiba's hybrid technology combines conventional printing with erasable printing allowing you to reuse paper over and over again. One single device easily connects, integrates, and simplifies your workflow and also helps to save valuable resources. At Toshiba, we are dedicated to serving our customers and committed to the future of the planet with the promise of Together Information. Black and white printing has never been this green.
The world's first B/W Multifunction Printer with erasable print function.
EVERYTHING YOU NEED IN ONE SYSTEM
Ecology:
The idea of a paperless office has been around for more than 40 years, yet today's business workflows still require a fair amount of documents to be printed. Toshiba now has a great solution for companies that want to be ecologically conscious and still be efficient and economical. Our unique Hybrid printing technology offers everything you would expect from a state-of-the-art multifunction printer and more. You can now even reuse the paper.
Economy:
One single system can print in black and white as well as in erasable blue. For you, this means you can use the Hybrid Multifunction Printer just like any other monochrome device to print in black. You can chose from a variety of paper feed and finishing options to cover all of your needs. Our erasable blue toner allows you to reuse the paper you have printed on, so that you can use less paper, without having to print less. Reducing paper usage will save natural resources, reducing your company's footprint and also helping you save money.
Efficiency:
Driven by Toshiba's e-BRIDGE Next controller, the system will boost your productivity. It provides ease-of-use and ensures that the device is capable of adapting to your document workflow. Whether you need to connect to 3rd party solutions or simply want to optimize your internal processes, the Toshiba Hybrid Multifunction Printer is there to help you enhance your overall efficiency
OUR BEST TECHNOLOGY TO ENHANCE YOUR BUSINESS
Optimizing workflow to get the most out of available resources has become essential for businesses that want to be successful. We have designed our Hybrid Multifunction Printer to offer you all of the features you need to be productive and efficient. But there's more: we have added a unique erasable print function, that can be selected in the print driver just like any other setting.
Connect
Having access to your documents when you need them is getting more and more important. We have made sure you get what you want, whenever you want and wherever you want.
Multi-Station Print allows you to send print jobs from your computer and retrieve them at any convenient Multifunction Printer by authenticating at that device, e.g., by swiping your badge. 
Cloud Printing ensures you have access to your documents no matter where you are. Our embedded apps let you send your documents directly to or print them from Microsoft OneDrive, Google Drive, Dropbox and others.
Mobile Printing gives you the flexibility to print directly from your mobile device via Air Print, Google Cloud Print, Mopria Print Service or our Toshiba e-BRIDGE Print & Capture app with an optional module which activates the WiFi feature, you can easily connect mobile devices directly with the Multifunction Printer.
Integrate: 
Toshiba's Eco Hybrid Multifunction Printer incorporates the latest e-BRIDGE technology. This makes it easy to integrate the system into your existing IT infrastructure and helps administrators work more efficiently. The open platform architecture also enables the creation of customized workflows to simplify complex scanning, archiving or other document management tasks.
Simplify:
We strongly believe that good technology must be easy to use, and that's how we designed the Hybrid Multifunction Printer. The large tablet-like screen with an embedded web browser is easy to use and customizable to meet your needs, regardless of the industry you're in. It gives direct access to all functions of the Multifunction Printer to increase user efficiency.
KEY FEATURES
A unique monochrome system with a speed of up to 45 pages per minute and up to 35 PPM in erasable blue ensures the Hybrid Multifunction Printer can handle even large jobs effortlessly. 
A customizable, tablet-like user interface, gives easy access to the print, scan, copy, fax and erase functions. 
Outstanding image quality you can rely on. No matter whether you use black or erasable blue toner, the result will always be the same impeccable documents.
The optional Dual Scan Document Feeder can hold up to 300 sheets while processing documents at an amazing speed of up to 240 images per minute (IPM). 
A 320GB FIPS 140-2 Validated Self-Encrypting Drive (SED) with Automatic Drive Invalidation (ADI) & Data Overwrite capability provides top level security. IPsec is available to securely encrypt data sent to and from the

Multifunction Printer.
You can get the best Color/Monochrome Multifunction printers with the latest design and features from Toronto Copiers. We deal with all your needs for office copiers/printers and toner and ink cartridges in Toronto area.