Toshiba E-Studio 478S A4 Size Multifunction Monochrome Printer Copier Scanner Available in Toronto Copiers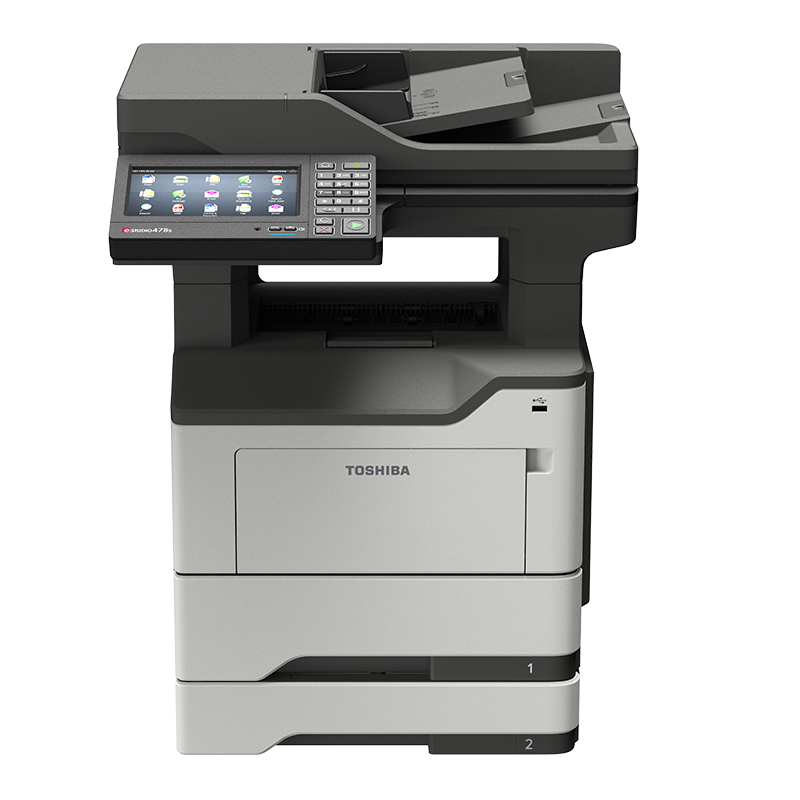 Call 905-326-2886 We are ready to help! 
Lowest Copier Prices in Canada !!!
B/W A4 Multifunction Printers
Print Speeds up to 50 PPM
Scan speed Up to 100 IPM Duplex
High compression PDF scanning
Medium Workgroups
Copy, Print, Scan, Fax
Overview
The Toshiba e-STUDIO 478S is a hard-working monochrome multifunction printer that offers printing at up to 50 pages per minute, superior print quality, enhanced security and skillfully engineered durability. All of which are powered by a quad-core processor to maximize performance. A hard drive and optional integrated stapler add capabilities rarely found on desktop devices.
Accomplish more in less time
Fax, print, copy and scan with the power of a 1.2 GHz quadcore processor, 2 GB of standard memory and hard drive. 
Up to 50 page per minute printing and up to 100 images per minute scanning make light work of large projects. 
An intuitive 7 inch touch screen offers smooth, tablet-like interaction for ease of use. 
Save time and improve efficiency with built-in productivity apps. 
Increase efficiency and finishing capabilities with an optional integrated stapler.
Ready before and after you are
Take advantage of extended uptime with longer life fuser and imaging components. 
Print volumes with a single toner replacement cartridge 20K high-quality pages. 
Accomplish more with fewer interruptions thanks to a maximum input capacity of 2,300 pages.
Work securely and confidentially.
Full-spectrum security architecture helps keep your information safe whether it's a document, a device, over the network, and everywhere in between. 
A range of innovative, embedded features protect your device, and your business, against attacks. 
Establish heightened security, beyond standard Confidential Print, with optional security solutions like Print Release and Secure Document Monitor.
Innovations designed with planet earth in mind
Reduce power consumption and your power bills with energy management features like Inactive Use and Sleep Mode. 
Reduce paper costs and usage with standard two-sided printing. 
Natural resources are preserved thanks to our use of post-consumer recycled content in manufacturing. 
User friendly from the get-go
Easy to use interface with its tablet-like design and smart-touch technology. 
Access the features you need quickly and easily using its flat menu structure. 
No special training required to use the Embedded Web Server. 
Take advantage of slick, PC-free printing from a thumb drive or network share whether it's MS Office documents (XLS, PPT, DOC), PDFs or image files. 
Your workday is made even easier with a variety of apps that come standard.
You can get the best Color/Monochrome Multifunction printers with the latest design and features from Toronto Copiers. We deal with all your needs for office copiers/printers and toner and ink cartridges in Toronto area.