Toshiba E-Studio 479CS A4 Color Multifunction Printer Copier Scanner | All-in-One Office Printers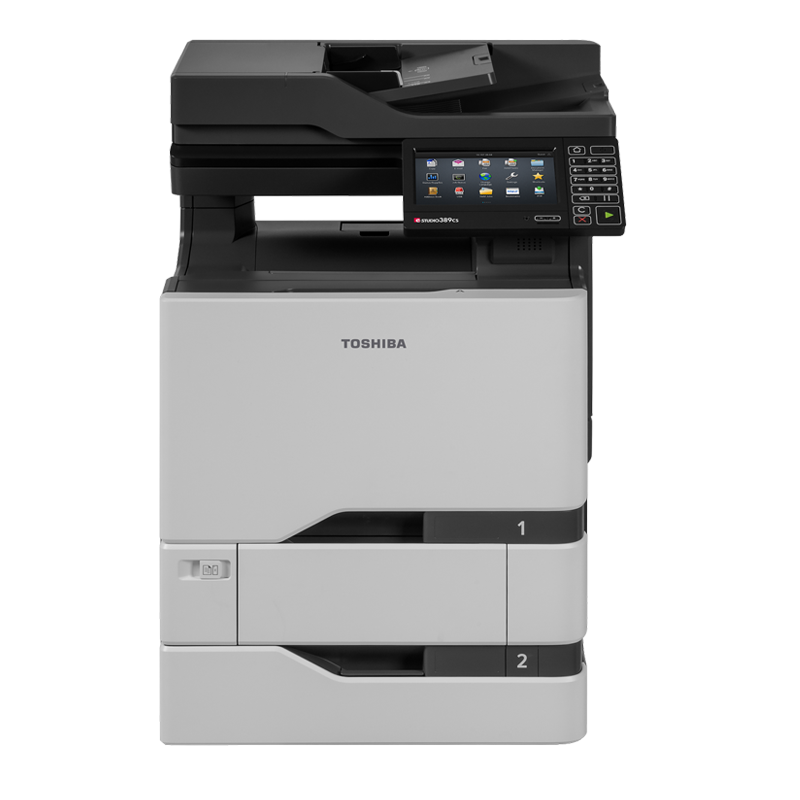 Call 905-326-2886 We are ready to help! 
Lowest Copier Prices in Canada !!!
Full Color Multifunction Printers
Up to 50 Page Per Minute
Letter/Legal Size
Medium Workgroup
Copy, Print, Scan, Fax
Overview
Toshiba's new e-STUDIO479CS offer printing at up to 50 pages per minute respectively, superior print quality, enhanced security and expertly engineered durability. All of which is powered by a quad-core processor that maximizes performance. With scanning at up to 60 ipm, your information can be quickly captured and made available to you and your network applications.
Brilliant in-house color you can afford.
Accurately and affordably match all your brand colors and other color output.
Produce critical colors with our advanced technology that combines RGB and spot color replacement.
Design with perfect color matching from the get go combining PANTONE calibration and embedded color sample pages.
Simple, smart and stylish.
A larger 10.1" tablet-style touch screen with an embedded web browser is easy to use, and customizable to meet your needs, enhancing the sleek and modern look of the complete series.
Impressive speed, functionality and reliability at your fingertips.
All the power you'll need is built in, thanks to a quad-core processor print controller.
Even your large color print jobs are completed quickly, with print speeds of up to 50 ppm, respectively.
Minimize wait times by printing a single color page in as little as 5-6seconds respectively.
Save even more time by conveniently printing from flash drives, network drives and online servers.
Now your workflow involves less work.
Keep things flowing smoothly with digital workflows as well as paper documents. 
Quickly capture and access information directly and from your network applications using scans speeds up to 60 ipm.
Keep your sensitive data secure.
Control access to the Multifunction Printer with full device authentication using convenient, yet secure card readers. 
Port and connection filtering further tighten access. 
256-bit AES encryption and hard disk wiping keep sensitive print job data secure. 
Digital signatures on firmware updates ensure that only legitimate updates are accepted by the device.
Save costs and the environment.
Reduce power usage and costs with multiple power saving modes. Sleep mode uses less than 3 watts between jobs. Hibernate mode uses less than half a watt during scheduled on/off periods.
Save even more resources and energy with standard double-sided printing and low-heat fusing toner.
User friendly from the get-go.
Meet a familiar interface with its tablet-like design and smart-touch technology. 
Access the features you need quickly and easily using its flat menu structure. 
No special training required to use the Embedded Web Server.
Take advantage of slick, PC free printing from a thumb drive or network share whether it's MS Office documents (XLS, PPT, DOC), PDFs or image files. 
Your workday is made even easier with a variety of apps that come standard.
You can get the best Color/Monochrome Multifunction printers with the latest design and features from Toronto Copiers. We deal with all your needs for office copiers/printers and toner and ink cartridges in Toronto area.