Toshiba E-Studio 8518A Black And White Multifunction Printer Copier Scanner | Monochrome Print Available For Sale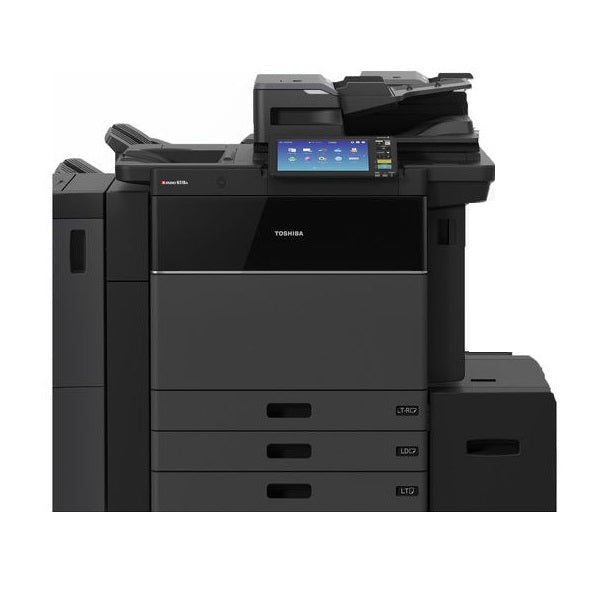 Call 905-326-2886 We are ready to help! 
Lowest Copier Prices in Canada !!!
Overview
Technology for every office, delivering advanced functionality, ease of use and peace of mind. Every industry has unique workflow needs. Toshiba has developed customizable MFPs to make your job easier. Intuitive and smartly integrated, these products simplify complex tasks and give you control while providing the reliability Toshiba is known for.
Toshiba's latest E-Studio 8518A delivers on their commitment to collaborate with end users to target needs and provide tailored, cost effective solutions that will meet your print, document management and content needs while helping to meet your green objectives.
High volume black and white
Outstanding image quality and high volume output
Advanced e-BRIDGE Next technology 
Fast dual-core processor
Sleeker, faster, and more versatile than ever
Toshiba's sleek new lineup is as impressive on the inside as it is on the outside. Its ultra-modern look houses the latest innovative technology, like crisp, clean monochrome output delivered at up to 85 pages per minute from an impressive 6,020 sheet maximum paper capacity.
precise 2,400 dpi x 600 dpi with smoothing for text
up to 3,600 dpi x 1,200 dpi in PostScript mode (included!)
new high-speed Dual-Scan Document Feeder holds 300 originals
ideal for high-volume offices needing monochrome printing and colour scanning
Elevate streamlines multi-step processes into automated one-touch functions.
Be more productive by personalizing your Toshiba MFP interface around jobs and procedures you frequently do.
Elevate enables customers to conveniently turn multi-step jobs into a customized and efficient one-touch procedures. Save time, frustration and cost. Elevate your productivity.
Customize and automate workflow
Boost productivity. Reduce manual office processes
Personalize the User Interface for better efficiency
Save costs through improved workflow and productivity
Create a clean Home Screen with often-used tasks
Simple, smart and stylish.
A new 10.1" tablet-style touch screen with an embedded web browser is easy to use and customizable to simplify and streamline your everyday jobs. It is part of the sleek, modern e-STUDIO 8518A that will look great in your office.
Toshiba's e-STUDIO 8518A series offers the best of the best, enabling large workgroups to improve productivity and connectivity while simplifying the overall workflow.
Double the Scan Speed
A 300-sheet high-speed, high-capacity Dual-Scan Document Feeder (DSDF) produces up to 120 IPM simplex and 240 IPM duplex.
Bluetooth/WiFi Option
Bluetooth feature provides support for a wireless keyboard to simplify workflow processes at the MFP, while the WiFi capability enables WiFi-Direct printing making it ideal for mobile users
Volumes and Volumes
A high monthly copy volume of 520K / 590K / 660K / 720K respectively. Impressive toner yield of 106,600 at 5% coverage.
Multi-Station Print Enabler
Toshiba's internally developed Multi-Station Print Enabler allows users to send print jobs from their desktop and retrieve them at any available MFP by simply swiping their badge and authenticating at that device.
You can get the best Color/Monochrome Multifunction printers with the latest design and features from Toronto Copiers. We deal with all your needs for office copiers/printers and toner and ink cartridges in Toronto area.